Welcome to the My Hero Academia DnD Wiki!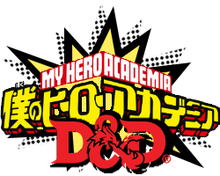 We're a community of roleplayers who have created a DnD 5e based game off of the Anime "My Hero Academia" on Discord. We're using this area to better outline the lore and characters of our campaign. If you're interesting in joining please contact a fandom administrator, please note that we reserve the right to deny entry into our game and please be respectful towards our members.
Community Founders: Write a good and paragraph-length description here about your topic. Let your readers know what your topic is about and add some general information about it. Then you should visit the admin dashboard for more tips.
Important articles
Need help building out this community?
You can also be part of the larger Fandom family of communities. Visit Fandom's Community Central!
Community content is available under
CC-BY-SA
unless otherwise noted.